What is Venus Viva?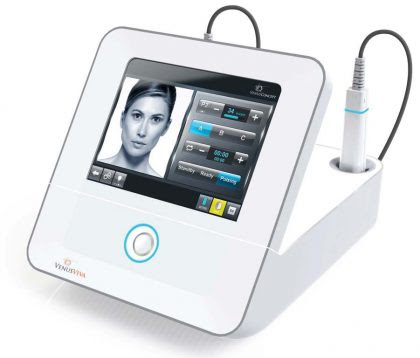 Venus Viva is a state-of-the-art facial resurfacing treatment that addresses an array of skin conditions with the powers of radio frequency and micro-channels. The revolutionary device combines NanoFractional RF and SmartScan technology to promote skin elasticity, smooth wrinkles, reduce discoloration, and diminish scarring.
Benefits of Venus Viva
Non-surgical
Minimally invasive
Little to no downtime
Performed in 30 minutes or less in office
Fully customizable treatment
Safe for all skin types
Treats a wide range of skin conditions
Proven, lasting result
How Does Venus Viva Work?
Venus Viva uses NanoFractional RF with the unique SmartScan feature. The device emits radio frequency energy to initiate the contraction and synthesis of collagen. It utilizes the highest heat capacity along with SmartScan's unique pin pattern to reach great penetration depth and truly counter the underlying causes of these conditions.
The patent-pending SmartScan tip has 160 pins per tip with 62mj per pin which create micro-channels in the skin through the emission of the radio frequency. These micro-channels initiate the body's natural healing process and expedites coagulation. The energy emitted through each pin reaches deeper layers of skin, and can deliver 700 pulses of radio frequency with select dermal heating. The combination of epidermal ablation and dermal coagulation result in beautiful skin resurfacing, and the scientific formulation of this design allows for more precise treatment and little to no downtime.
Conditions and Areas Treated
Venus Viva is designed to treat:
Mild laxity of facial skin
Fine lines and wrinkles
Acne scars
Uneven skin texture
Enlarged pores
Rosacea
Discoloration
Venus Viva can successfully be used on any part of the body, but best results can be seen on the:
Ideal Candidates
Ideal candidates for Venus Viva are men and women who are in good health and suffer from facial imperfections such as uneven skin tone, skin texture, wrinkles, or skin laxity. It is safe for all ethnicities and skin types, and the device is completely customizable so each treatment can be tailored to patient's specific conditions and needs. Since the procedure works off the body's healing response, each patient will require a different amount of sessions and see their specific results at differing times. The amount of sessions needed to treat your specific case will depend on the extent of your conditions